Latest news from across the Diocese of East Anglia includes a Keralan-style harvest festival, a walk between 13 churches in Felixstowe and a visit by Bishop Alan to Ipswich.
---
The traditional Harvest Festival, or Onam (pictured above), was celebrated in style this year by more than 100 Keralans in Sawston, including Catholics and Orthodox people.
Though it was celebrated on Monday September 4 when most of them had to go to work, they managed to get permission to be at the hall for the celebration.
Fr John Minh said: "Onam nowadays is more a cultural festival than a religious celebration. It is an opportunity for everybody to show their deep gratitude and great joy for harvests, from rice or potatoes in the fields to vegetables in their gardens.
"The symbol of the festival is a colourfully decorated floral carpet, called Onapookkalam, made up several varieties of flowers, seeds, and vegetables. Children and their parents would wear new clothes and clean their houses for the festival. Their foods would be different from daily ones: there is a great variety of rice, vegetables, potatoes, etc. prepared for the occasion, but no meat is allowed. The foods are served on banana leaves to enhance the taste and the agricultural spirit of the party.
"Deeply rooted in their traditions, the Keralans in Sawston would like their children to understand their culture, but it was also a special occasion for Orthodox and Catholic Keralans to celebrate together. Their presence in Sawston has enriched the cultural life of the village, and certainly to the spiritual life of the Church," said Fr John.
---
Bishop Alan visited St Mark's Parish in Ipswich on the weekend of September 2 and 3.
He celebrated and preached at all the Sunday Masses at St Mark's and Holy Family Brantham, met with the catechists and members of the finance committee and visited some of the sick and housebound. He was enthusiastically received and welcomed by the parish.
In a letter to Fr Christopher after his visit he said: "I think all is going well and St Mark's is a happy and vibrant community."
Picture by Peregrine Bush.
---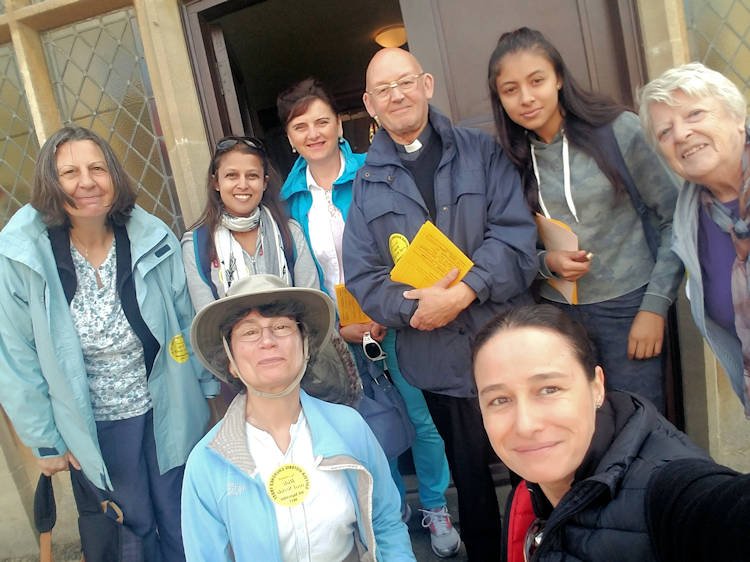 A party of parishioners from the St Felix Parish, Felixstowe walked together to 13 churches as part of the Suffolk Churches Ride and Stride event on Saturday September 9. They included Sr Mari Paz from Mexico who is currently staying at the Convent of Jesus and Mary in Felixstowe, and Fr John Barnes. The Our Father was said in each of the churches.
Comments