Latest news from the Diocese of East Anglia includes a silver wedding surprise, an appeal to solve an historic saintly mystery and an entertaining after-dinner speech.
---
A Gorleston couple had a wonderful surprise when they celebrated 25 years of marriage and renewed their vows on January 21 during the Sunday mass at St Peter's church.
Joseph and Regeena Madathil were marking their silver wedding anniversary, with Fr Anthony Nwan-Kwo and Fr Arockiya Seelan celebrating Mass. But it was made extra special for them when Bishop Alanwas also there to bless their marriage.
Joseph said: "It was a great surprise when we found out that Bishop Alan would be there. We like to think that it was a 'divine plan' because the bishop was supposed to visit Gorleston at the end of last year but it got cancelled."
The couple weremarried at St Mary's Church, Parel Kottaym, Kerala in South India on January 18, 1993. They have three daughters, Jerlin (aged 24), Jeslin (22) and Christina (18).
---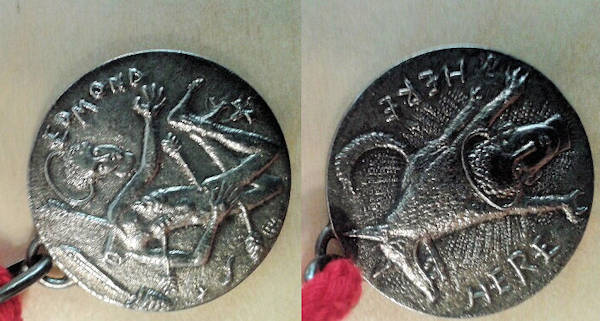 An appeal has been made to help solve an historic mystery relating to the martyrdom of St Edmund in Suffolk.
John Saunders, Chair of St Edmund's History Group, explains: "A friend of mine is in possession of a medallion (pictured above) showing the martyrdom of St Edmond; the obverse depicting the legend of the wolf and his head and the words "here, here'. It was given to her in the 1960s and would appear to have been produced around that era.
"I have instigated enquiries amongst local and national historians/institutions, religious contacts, museums in England, France and Italy but no one has as yet been able to identify its origin or is aware of any other copies of the medallion.
"I wondered therefore if anyone from the East Anglian Catholic community has another copy or could help unravel the mystery."
You can contact John at: 3 Hutton Close, Bury St Edmunds, Suffolk, IP33 3GY or on: jes767894@btinternet.com
---
The highlight of January's meeting of Norwich Circle of the Catenian Association, a Ladies Night, held in the Refectory of the Great Hospital, was a fascinating after-dinner talk by Mike Prior who had just returned from a three-week holiday in China with his wife Annette.
Mike'stalk, accompanied by pictures illustrating the scenes they'd visited in the country which has a recorded history of 4,000 years, covered subjectssuch as the various dynasties which had existed, the silk industry, the Great Wall which stretches for 5,000kms across the north, the unearthing in 1974 of the famousTerracotta Army, the Opium Wars and the founding in 1949 of The People's Republic by Chairman Mao in Tiananmen Square.
The talk (on January 26) was greeted by much applause from the 50-strong audience led by Circle President John Kenny who urged other members, who come from a wide range of professions, to volunteer to give future presentations which have become a regular feature of the monthlymeetings
Pictured is John Kenny with Mike Prior.
Comments