Latest news from the Diocese of East Anglia includes Abbey celebrations in Bury St Edmunds, a conference with Bishop Barron, and Corpus Christi in Cambridge.
---
Abbey 1000 commemorates 1,000 years since the founding of St Edmund's Abbey and a full programme of events continues throughout the year.
On 16 July it was the turn of 'Picnic in the Park' in the Abbey Gardens at Bury St Edmunds when a huge crowd enjoyed free entertainment in wonderful sunshine. Various stalls were present, and St Edmund's Parish mustered volunteers to sell plants, cakes and the work of artisans and to provide children's entertainment as part of the aim to raise £1,000 for good causes.
Coordinator John Saunders was delighted with the efforts of parishioners: "Whilst many donated items to be sold, we used it as an occasion to demonstrate the diversity of St Edmund's and this stood out with people at our stalls from different cultures. In particular, members of the Polish community were striking in their costumes. The total is still being calculated but we are well on our way to our target."
For more information visit www.visit-burystedmunds.co.uk/abbey-1000
---
Catholic Voices and Word on Fire are hosting a one-day conference called 'Sharing the Church's Story'. Join a group from the Diocese of East Anglia and 1000 other Catholics who are passionate about the renewal of the Church in the UK and a host of dynamic speakers including the internationally renowned speaker and author, Bishop Robert Barron. Whether you are a volunteer, parent, catechist, clergy, religious, or just want a boost for your faith life, then this conference is aimed at you.
The event takes place on Saturday September 17 from 10am to 6pm at Friends House, Euston Road, London. More information and registration on www.sharingthechurchsstory.com
---
Corpus Christi was marked in Cambridge by a long procession through the streets around Our Lady and the English Martyrs, followed by an open-air service led by Mgr Eugène Harkness.
Pictured above is the Polish stall at the Abbey celebrations and, below, Corpus Christi at OLEM in Cambridge.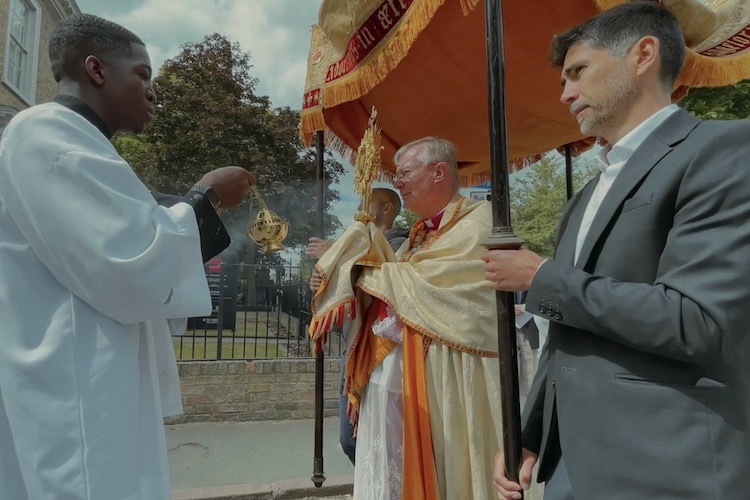 Comments