Introduction
Alive in Faith supports our vision for the future our Diocese which is to have:
† Seminarians who are well formed, and clergy who are supported when they step down from active ministry
† Strong and vibrant parishes that are addressing local needs
† Programmes of outreach to help those who are most vulnerable in our communities
Understanding that our parishes are at the centre of Catholic life, we must ensure that they are fully resourced in their mission so that they can continue to build growing and evangelising faith communities. We have therefore embarked on Alive in Faith – a diocesan-wide, fund-raising initiative. Working together, with God's grace, we can accomplish great things, ensuring a strong and 'hope-filled' Church.
"Here in East Anglia, we are alive in faith and have a vision and a desire to grow. This special initiative will help us to build a sure foundation and strengthen our faith communities as we focus on the future work and mission of the Diocese. I seek your prayers and support and hope that you will join me in making Alive in Faith a success." Bishop Hopes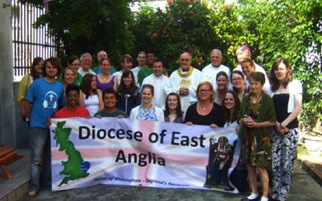 Alive in Faith is a collective effort. The campaign:
Invites every parishioner to learn about the key priorities for the Diocese and the local parish, and consider their support
Shares information in as personal a manner as possible, involving clergy and lay volunteers
Gives parishioners the time and space needed to make a private, personal and informed decision
Is entirely voluntary
When Alive in Faith is being conducted in your parish, there are several ways you can help to make it a success:
If you are called upon to be an Alive in Faith volunteer, please do so with enthusiasm
When asked to learn more, listen with an open mind and heart
In being invited to consider making a gift or pledge, please give careful thought to your decision
Pray for the success of our endeavour
Click here to read the Frequently Asked Questions about Alive in Faith.