Latest news from the Diocese of East Anglia includes a farewell to Sr Marie, a new music director at OLEM, and a new chaplain at Fisher House.
---
Sr Marie O'Reilly is moving on from Bury St Edmunds after 23 years serving in the town.
Almost 100 years ago nuns began teaching at the town's Catholic schools. In 1971, as part of local authority education changes to the three-tier system, the St Louis Sisters took their Convent School into the system to form St Louis Middle School, which combined a mix of lay teachers and nuns.  The work continued until the closure of St Louis School in 2016. In 2018 Sr Marie became the last nun to remain in Bury. 
She is now moving to Dundalk and a celebration in St Edmund's Church Crypt on Sunday August 14 was attended by well-wishers.  Presenting her with a gift, Fr David Bagstaff paid tribute to her work ministering to the sick, helping those in need and establishing friendships throughout the community.  "Sr Marie has been a true friend to people in her time here and she leaves with tremendous gratitude for what she has done," he said.
---
Our Lady & the English Martyrs in Cambridge is set to welcome a new member of the music department. Lyn Alcantara is becoming the Director of the Song School, comprising the Junior and Youth Choirs.   
Lyn is a mezzo soprano soloist who has appeared in concert and on disc, as well as BBC TV and radio with the Monteverdi Choir, the Sixteen, Opera North and the Choir of King's College. Cambridge. She is founder-director of KJV Community Children's Choir (formerly King's Junior Voices and Fellow and Director of Music at Wolfson College, Cambridge. 
Meanwhile the former Anglican Bishop of Thetford and prolific hymn-writer, Timothy Dudley-Smith, now living in retirement in Cambridge, recently attended Solemn Mass at Our Lady & the English Martyrs. During the Mass, three of his well-known hymns were sung, including the ever popular 'Tell out my soul.' Many parishioners were keen to greet Bishop Timothy who concluded his visit with a photo with members of the OLEM choir. 
---
Fr Paul Keane has accepted Bishop John Arnold's invitation to be the new Chaplain at Fisher House, Cambridge University Catholic Chaplaincy. 
Fr Paul will be moving to Cambridge in the course of the summer, ready to take up the post in time for the new academic year. He is a graduate of Peterhouse, is currently Vice Rector at St Mary's College, Oscott in Birmingham, and was formerly Chaplain at Essex University.
Pictured above is Fr David Bagstaff presenting a gift to Sr Marie. Below is Fr Paul Keane.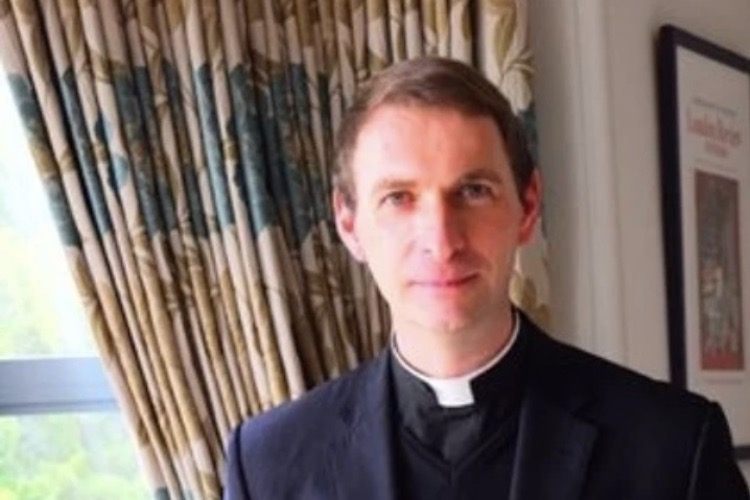 Comments