Sacred Heart Church in Southwold has been taken off the "At Risk" register published by Historic England after a successful five-year battle to save its tower from collapse.
---
Earlier this month, Historic England published its latest annual update on historic buildings across England that are considered to be 'At Risk', and after a half decade long struggle, Sacred Heart Church is delighted to see its church removed from the register.
The Southwold church is a unique example, outside London, of the work of Benedict Williamson, architect, priest and polymath.
Speaking after receiving the news, Cedric Burton, who oversaw the project on behalf of the parish, said: "The parish is delighted that its five-year battle to save the church tower from collapse has succeeded and Historic England have removed the building from the Heritage at Risk Register.
"The need for urgent structural repairs was identified in 2016 and a major project was launched. With the help of the Heritage Lottery fund over £300,000 was raised to rebuild the upper part of the tower and replace the reinforced concrete roof which was literally hanging on by a thread. More than 50 tonnes of concrete hovered over the congregation's head supported only by wafer thin remnants of rusted steel 'I' beams".
The scheme for restoration, developed under the direction of architect Nicholas Warns of Norwich, and executed by S&L Restoration Ltd, has restored the unique 106-year-old church in Southwold to its former simple glory.
Matthew Champion, Historic Churches Support Officer for the Diocese, said: "It is wonderful news to see this magnificent church removed from the at risk register, and a real testament to all the hard work that has been put in by the parish and congregation."
Pictured top is the tower at Sacred Heart in Southwold and, below, some of the crumbling masonry.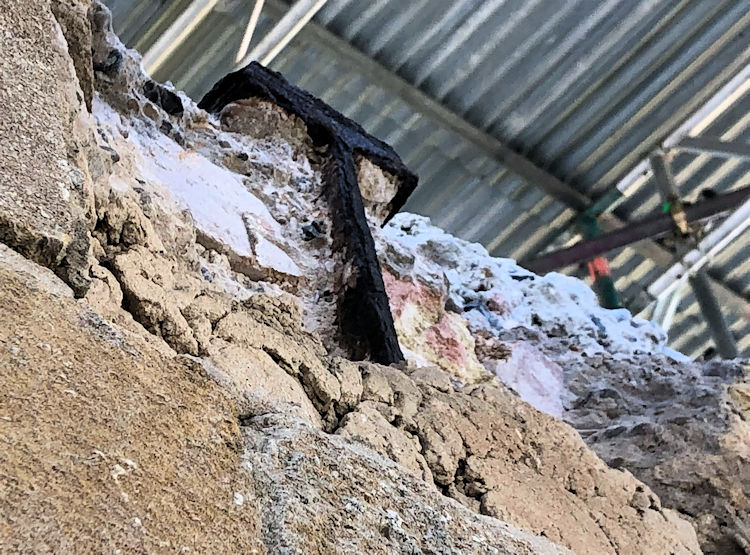 Comments