Latest news from across the Diocese of East Anglia includes First Communions, a Corpus Christi procession, a Catenian presentation and help with church repairs.
---
The children of the church of Our Lady of Good Counsel and St Peter in March (pictured above) received their first Holy Communion on the feast of Corpus Christi on June 23, reports Leontine Shannon.
---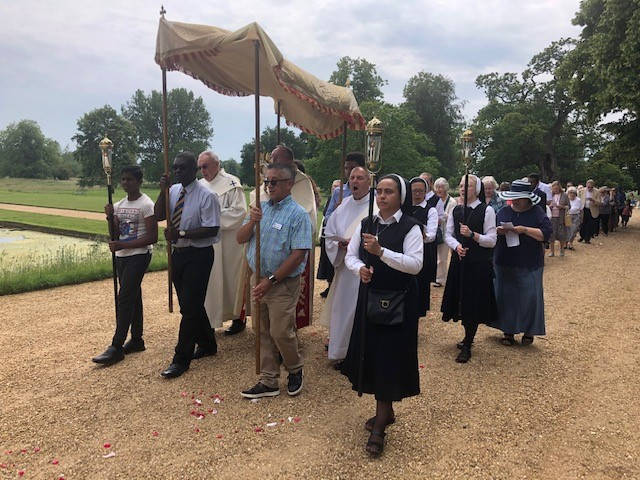 Over 100 parishioners from across St. Wilfrid's Deanery (North West Norfolk) took part in the annual Corpus Christi Procession at Oxburgh Hall on a beautiful summer afternoon on June 23.
The Blessed Sacrament was carried from the Bedingfeld family chapel around the moat of the historic hall and through the courtyard to the private lawn where benediction was given before the procession returned to the chapel. Children from Swaffham strew flowers before the Blessed Sacrament and the canopy was borne by Catenians from the West Norfolk Circle. There was much interest shown by the many visitors to the National Trust property.
Picture, right, by Peter Martin.
---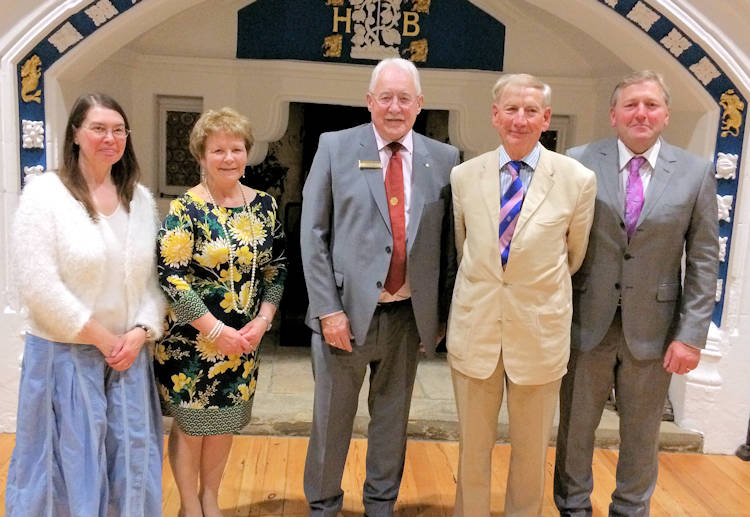 The highlight of the June meeting of the Norwich Circle of the Catenian Association held in the Refectory of the Great Hospital was the presentation of 50-year scrolls to Brian Lewis plus and  Susan Baker, daughter of the late David McWeeny OBE. The presentations were made by Phil Brown, Great Britain's National President of the Association.
After dinner speeches were delivered by Phil Brown and Phil Hoy, president of Norwich Circle plus Susan Baker, daughter of  the recently deceased David  McWeeny and Jacinta Goode, David's step daughter.
Pictured left to right are Jacinta Goode, Susan Baker, Phil Brown, Brian Lewis and Phil Hoy.
---
It is now easier for churches in the East Anglia area to carry out expert conservation and repair work to stonework, masonry and mortaring and roofs and towers, thanks to an expansion of MaintenanceBooker,  the heritage website that helps keep church buildings safe for the future.
Michael Murray, Executive Director of National Churches Trust Heritage Services Ltd said: "Since 2018, churches and chapels have been using MaintenanceBooker to find qualified contractors to carry out gutter clearances and repairs, lightning protection inspections and repairs, tree surveys and maintenance and asbestos surveys and removals."
 "We've launched the new services for stonework, masonry and mortaring and roofs and towers as a direct response to the needs of churches identified in grant applications made to the National Churches Trust.  In 2017 – 2018, over 55% of applications for maintenance grants were for high level repairs to roofs and towers and 28% for stone or mortar repairs to walls."
"We want to make keeping church buildings in good repair as easy as possible for churchwardens. MaintenanceBooker is a simple to use online service. It uses only accredited contractors and helps churches obtain multiple quotes for each job. This makes it easy for churches to get the right price for expert repair and conservation work, and to obtain funding for the works."
Grants available
For many churches in the East Anglia Diocese, the cost of maintenance can be a major barrier to keeping their building in good repair, so users of MaintenanceBooker can obtain Preventative Maintenance Micro-Grants to fund a maximum of 50% of project costs up to a maximum £500 grant.
For larger repair projects, such as slipped tiles, crumbling stone walls or replacing concrete mortar, churches can also apply to the National Churches Trust for Foundation Grants for Maintenance of up to £3,000.
Comments