Pope Francis has blessed the "Dowry Painting" of Our Lady of Walsingham, from the Catholic National Shrine dedicated to Mary, the Mother of God, in Norfolk.
---
Present at the blessing during the Pope's weekly audience on February 12, were Cardinal Vincent Nichols, Archbishop of Westminster, Mgr John Armitage, Rector of the Walsingham Shrine, and Amanda de Pulford, painter of the Dowry Painting.
The painting will be at Walsingham for The Rededication of England as Mary's Dowry on March 29. After The Rededication the Dowry Painting will begin a journey to every Catholic parish in England.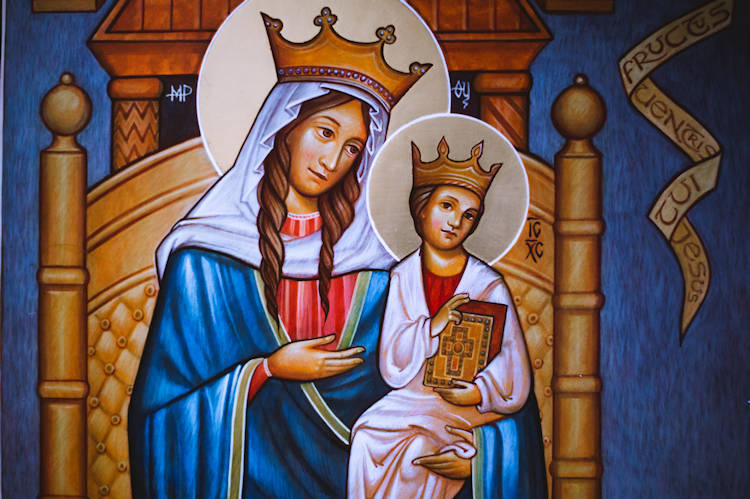 Cardinal Nichols said: "The blessing of the icon of Our lady of Walsingham by Pope Francis is a great encouragement to us all as we prepare for March 29 and our act of Rededication. I assured our Holy Father of our prayers and affection and thanked him for his blessing."
Mgr Armitage said: "Yesterday was a truly blessed day, when the Holy Father blessed the new Dowry Painting in Rome which was presented to him by Cardinal Nichols. The painting, which will visit every Catholic Church in England, was then taken to the tomb of St Gregory the Great in St Peters Basilica, the Pope who sent St Augustine to evangelise the people of England. Before his tomb we prayed for his intercession to strengthen our faith to continue this mission to the people of England."
Pictured above is the Dowry Painting by Amanda de Pulford (centre), being blessed by Pope Francis in Rome on February 12, watched by Walsingham Rector Mgr John Armitage and Cardinal Vincent Nichols. Picture by EWTN/Vatican.
Comments