An experienced Catholic choirmaster has offered to help parishes and schools in East Anglia reintroduce the riches of Latin and Plainchant.
---
Paul Henriksen, who lives in Holt, Norfolk, said he wants "to remind people that Vatican II was designed for flexibility. Our great wealth of musical history was not supposed to be forgotten, but to be used in balance."
Paul is the diocesan representative of the Association for Latin Liturgy, which aims to support parishes wishing to re-introduce some Latin and Plainchant into worship. The Association's Liturgical Advisor is Bishop Alan.  
Paul can explain the wide range of liturgical music available. He is member of the Schola Cantorum in Cambridge, and has been for many years choirmaster at Cromer Parish. As a former Anglican, he used to be a member of the Gregorian Association.
"When people realise that the objective is not to turn the clock back," he said "but to move forward, then they are positive about our message and become open to the beauty of the ancient chants and to the appropriate use of Latin."
Paul is happy to visit parishes and speak with clergy who might like to introduce a sung Gospel, to use chant on special occasions, or rediscover some of the ancient hymns to Our Lady.
Members of the Association will also happily accept invitations to work on the music and liturgy at special events; they can help too with choir practices or occasions involving music.
Paul would be happy to welcome more members in East Anglia. He can be contacted at Paul.Henriksen@Latin-Liturgy.org, telephone 01263 712288.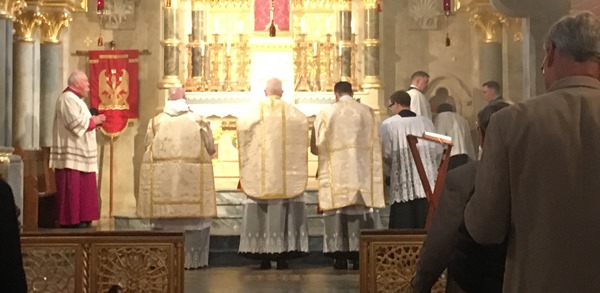 The Association celebrated its fiftieth anniversary with a Mass at Corpus Christi church in Maiden Lane, London on September 28.
Bernard Marriott, a member of the Association, reports: "A small choir of members sang the Propers of the Mass (Introit, Gradual, Alleluia, Offertory and Communion) whilst the congregation joined in a chant Mass Kyrie magnae Deus potentiae.
"The readings were sung in English and altogether the Mass demonstrated how the traditions of the Church can be fully respected within the requirements of the current Roman Missal."
Bernard said that the Association aims to recover some of the "vast heritage of liturgical texts and music used during the 1500 years in which Latin was the universal liturgical language of the Western Church."
The pictures above show members of the Association for Latin Liturgy at their September celebration in Maiden Lane
Comments