St Mary's Catholic Primary in Lowestoft is marking its Golden Jubilee in 2017 and a special end-of-year Mass with Bishop Alan Hopes, helped to mark the 50th anniversary in style on July 19.
---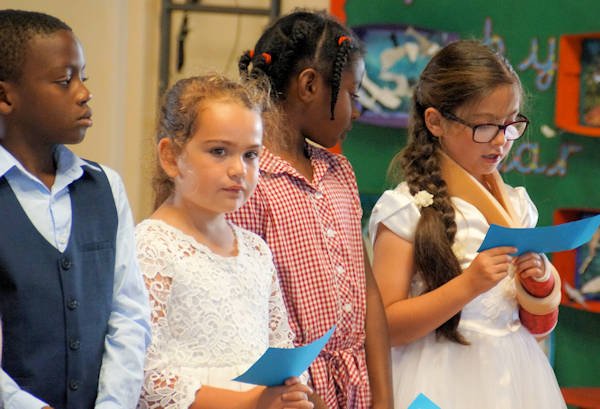 Pupils, teachers and family members joined Bishop Alan in the special Mass held at the school, including three people who were at the school on the opening day, 50 years ago.
Current year six teacher Bridget Wright was a seven-year-old pupil back in 1967. Her three children also attended the school before she joined the staff as a part-time then full-time teacher
"Once you start here it is not just a job it is more of a lifestyle," said Bridget. "It has helped to restore my own faith."
Wyn McFaull, aged 92, was the school secretary back in 1967. She said: "God has always been with this school. A lot of love has gone into it first from the original nuns, the Sisters of St Mary of Namur, and then the parish of Lowestoft."
Katherine Wilton, aged 85, helped to raise funds to pay for staff for the new school.
In his homily, Bishop Alan reminded the pupils that when the school was built it had to have strong, sure foundations on which the rest of the buildings took shape, but it did not come alive until it was filled with children and teachers.
"Through being a member of your own family, the church and this school help your life to take shape and you to grow into adults. You never know where life will lead but when your life has been built on a sure foundation of Jesus Christ it will be the best you can ever have.
"May this school last another 50 years and may you continue to grow and grow in the next 50 years into the people God wants you to become."
Headmaster Alex Savage ended the Mass by saying: "All the families, pupils and staff who have been to St Mary's over the past 50 years have been blessed by the love, care and inspiration of this very special community. It is now our responsibility to enable our school to continue to flourish into the future."
Everyone then enjoyed a family picnic in the grounds of the school overlooking the beach and the sea.
Pictured above is Bishop Alan and some of the St Mary's pupils at the 50th anniversary Mass.
See below for a full picture gallery of the celebrations or click here: https://flic.kr/s/aHskYXjbiN
Comments